About Us
Story Carpet is an educational enterprise that works towards the holistic transformation of Adults and Children based on the 3C model, Creativity, Confidence, and Communication. We achieve the results in each individual by creating unique programs such as Creative Writing, Public Speaking, Storytelling, Behavioral Coaching, and Counseling which have uplifted the personal equity quotient for every human being.

We have transformed around 10 thousand individuals across schools, colleges, corporate around the globe. Our Mission is to infuse "Positive Ripple" in every individual that we touch everyday and moment.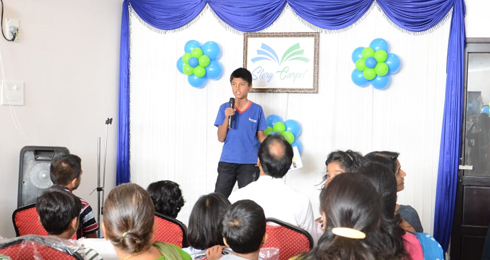 ---
Vision
---
EDUCATE the human being, help them to EXPRESS confidently and allow them to EMERGE in life.
---
Mission
---
Story Carpet has been ventured in the world with the idea of touching and transforming 10 Million Children and 5 Million Adults around the globe by December 2028 by enhancing their confidence, creativity and communication through various programs.
Programmes Offered
Story Carpet was started with the perfect goal of creating transformation for any human being. The purpose of the Story Carpet is to infuse confidence, creativity, and communication to any adult/child through the methodology of Public Speaking, Creative Writing, Storytelling, Personality Development, and also through Behavioural Coaching and Counseling programs. Hence we designed our programs based on the progressive need of any child/adult. Each of the programs is meant to create an extraordinary transformation in you as it did for the other 10 thousand-plus participants across the world.
Courses Offered

Storytelling is not just an art, it is a skill. And it is a skill that can be learned by anyone. Extensive vocabulary, effective communication, and good presentation skills all make up storytelling, and can be learned by anyone.

Creative writing is not a talent that a select number of people have. It is a skill that can be learned and improved with the right guidance. Creative writing allows for the free expression of emotions and improves self-confidence.

Public speaking is the most common phobia among children and adults. This fear can stem from a number of reasons, including lack of confidence and insufficient language skills. However, public speaking is a vital skill in both the school and professional environment, as well as in everyday social interactions.

Story Carpet's Peek-A-Book program allows children to read a book of their choice and give a review of it to a group of their peers.
Testimonials
Creative Writing

"Every Tuesday and Thursday morning, I'd wake up earlier than usual to attend the class. If it weren't for this class, my sleep schedule would be scattered all over the place. Being able to express thoughts in various prompts is a productive exercise for my mind. Although I wasn't able to meet the other students in the session, I was able to get a brief understanding of them as an individual, through their writings. Mrs. Mubeen's enthusiasm passed onto each of us, keeping us engaged. I genuinely appreciate my experience in this workshop. Many ideas have been introduced to me, which I'll surely incorporate into my life. Thank you for this opportunity."

- Afrin Mohamed

Public Speaking - Children

"The team of story carpet are doing a great job and giving excellent stage to our children in their earlier age . My son enjoyed each and every session of public speaking workshop. The way Nagraj Sir taught and explained each and every elements of public speaking in detailed is really praiseworthy. I can see the transformation in him. He is very confident now. Thank you Mubeen mam and entire story carpet team for introducing such wonderful workshop. "

- Parent Review

Public Speaking (Adults)

"This is excellent Platform to improve the communication skills for kids and adults. Thank you Mubeen for your initiative to start the Story Carpet. We have thoroughly enjoyed Nagaraj Sir sessions and learnt so many best practices of Public speaking. He is a multi talented person. Shameer is a very good psychology counsellor. Farheen, our batch coordinator. Thanks to everyone who helped us through our journey. I look forward to join the Advanced Public speaking course."

- Vani Prasanna

Psychological Counselling and Behavioural Coaching

"I had a lot of issues in dealing with my husband's loss. Shameer guided and transformed me, and also my relationships with everyone around me and he also pushed me into having a goal of my own. And now today I am seeking my passion and working towards my goal and also in the path of being financially independent. Can't thank him enough. When he told me about his background, I was startled that he was once person who had his own fears and trouble in relationships and he transformed himself and now he is in the journey of transforming people around him in trouble."

- Anitha

Story Telling

"Before attending this course, sixth-standard student Sara was very shy and reserved. She did not speak to her classmates and did not know how to communicate effectively. She struggled during presentations, and would stumble and forget her words. After attending the storytelling workshop, Sara learned how to overcome her fear and communicate in an effective manner. She learned techniques for storytelling which helped her be more engaging during school presentations. She also improved her vocabulary a lot and learned how to structure a story. Sara's transformation was made possible only by this storytelling course."

- Parent Review